Gal Gadot isn't just Wonder Woman — she's also a super mom.
The actress and her husband Jaron Varsano wed in 2008 and have since welcomed three daughters: Alma in 2011, Maya in 2017 and Daniella in 2021. And though Gadot has played an Amazonian warrior princess in the Wonder Woman films, becoming a mother is what made her feel the most powerful.
"When you deliver, you feel like you're a god. Like, 'Oh my God, I made this!'" Gadot told news.com.au in May 2017. "The best thing is to become a mother and to give life."
Gadot further elaborated on her love for childbirth and motherhood to InStyle in 2022.
"I love giving birth. I would do it once a week if I could. It's so magical," Gadot shared. "And I always take epidurals, to be fair, so it's not so painful. Just the moment you feel like you're creating life, it's incredible."
She added: "That is the badass thing I do: the juggling between my family life and my acting career."
While the actress prefers to keep her daughters "as private as possible," she's shared glimpses of their life as a family of five on her social media — including their travels and sweet moments in the kitchen together.
Here's everything to know about Gal Gadot's three daughters: Alma, Maya and Daniella.
Alma Varsano, 12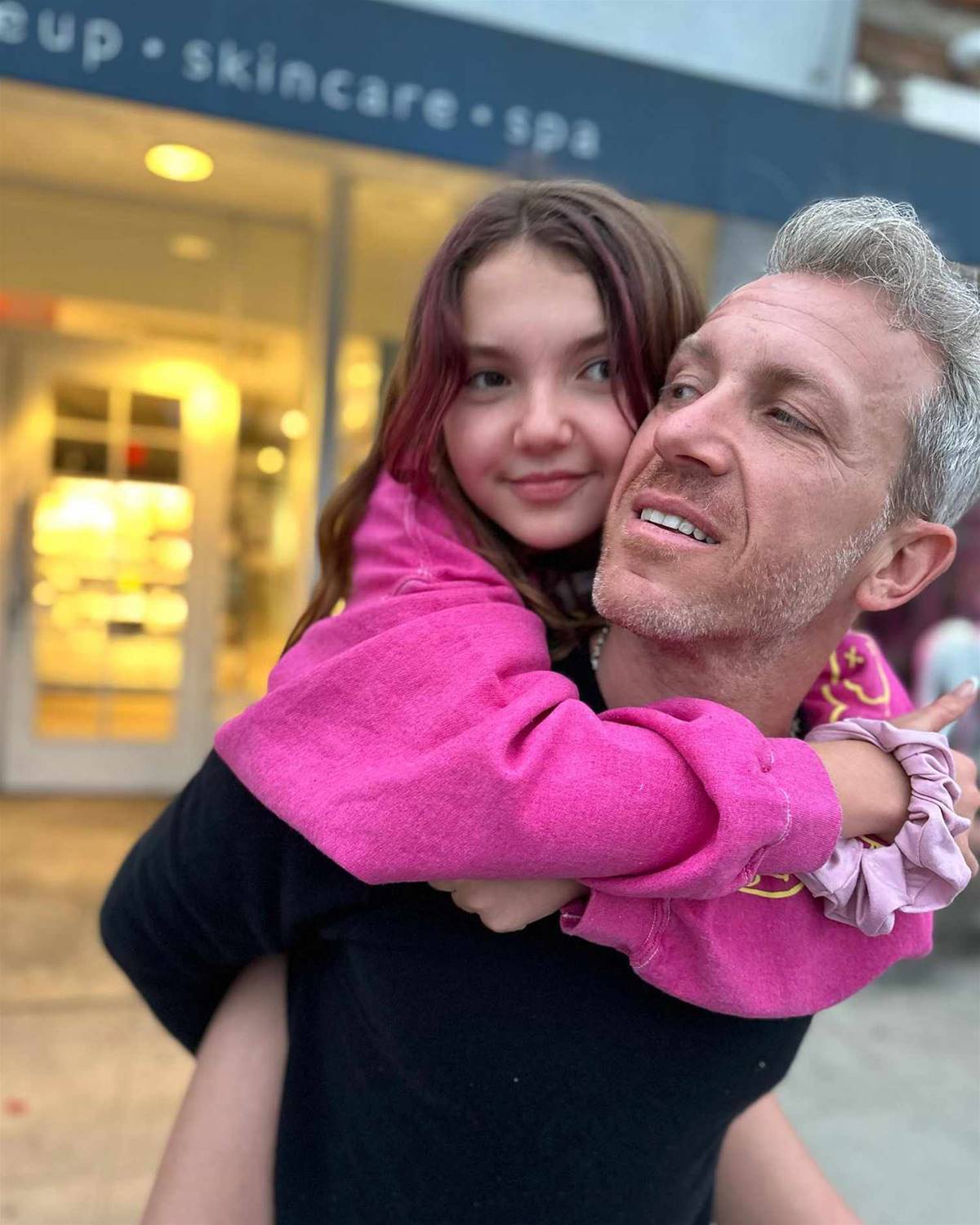 Gadot and Varsano's first daughter, Alma, was born on Nov. 5, 2011 — "a good few [weeks] before my due date," Gadot later revealed on Instagram. "Alma decided she had enough," the actress wrote about Alma's early arrival.
And though Alma's birth may have caught Gadot by surprise, it was still a day that changed her life "forever."
"She has brought so much love and light into our home. So much laughter with cheeky funny moments, so much curiosity, both daring and naiveté," Gadot wrote on Instagram on Alma's 8th birthday in 2019.
She continued, "I'm so lucky to be your mother. Thank you for teaching me so much about life without even knowing you are and for giving me the most precious title I could ever ask for. I promise I'll do anything for you, love and protect you forever."
Becoming the mother of a daughter also helped inspire Gadot to provide a strong female example as Wonder Woman to young girls (and boys) everywhere.
"I have a 4-year-old daughter and she adores princesses at the same time she will tell me the princess is so weak, she falls asleep and the prince will come and kiss her and save her and he is the hero," Gadot shared about Alma in 2016. "So I am so happy to be the one who is going to tell the Wonder Woman story … It is so important for girls and boys to have a female, strong, super hero to look up to."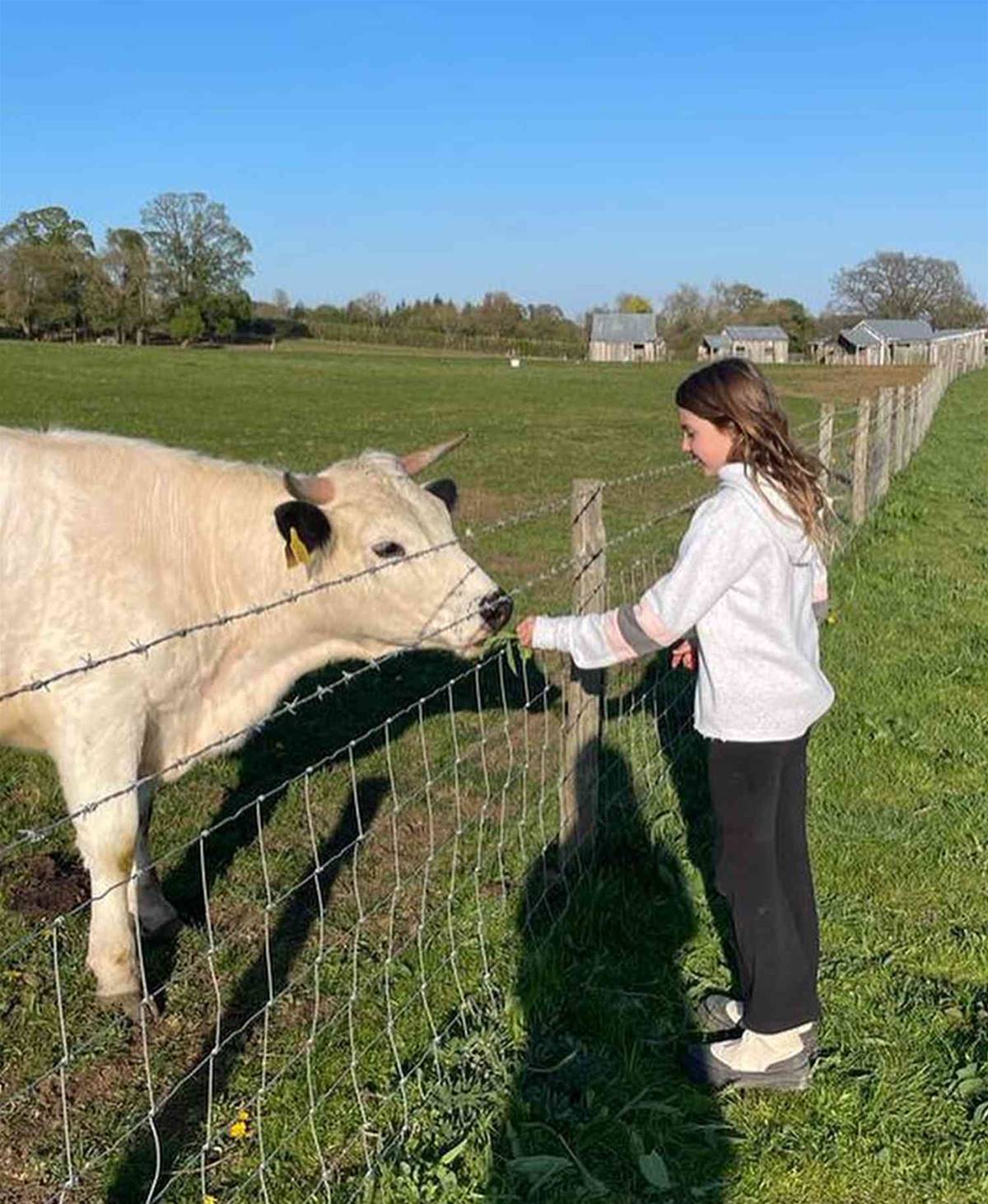 Alma isn't just able to watch her mom in the Wonder Woman films — she makes her own cameo appearance in one too. In Wonder Woman 1984, the sequel to the 2017 original film, Alma, her sister Maya and Varsano appear in a Christmas scene near the end of the movie.
"It meant a lot and especially in that very special scene," Gadot said about the family cameo. "I couldn't have done my movie without the support of my amazing family, and to have them captured in the film with me meant a lot. An amazing, amazing souvenir that we will cherish forever."
Maya Varsano, 6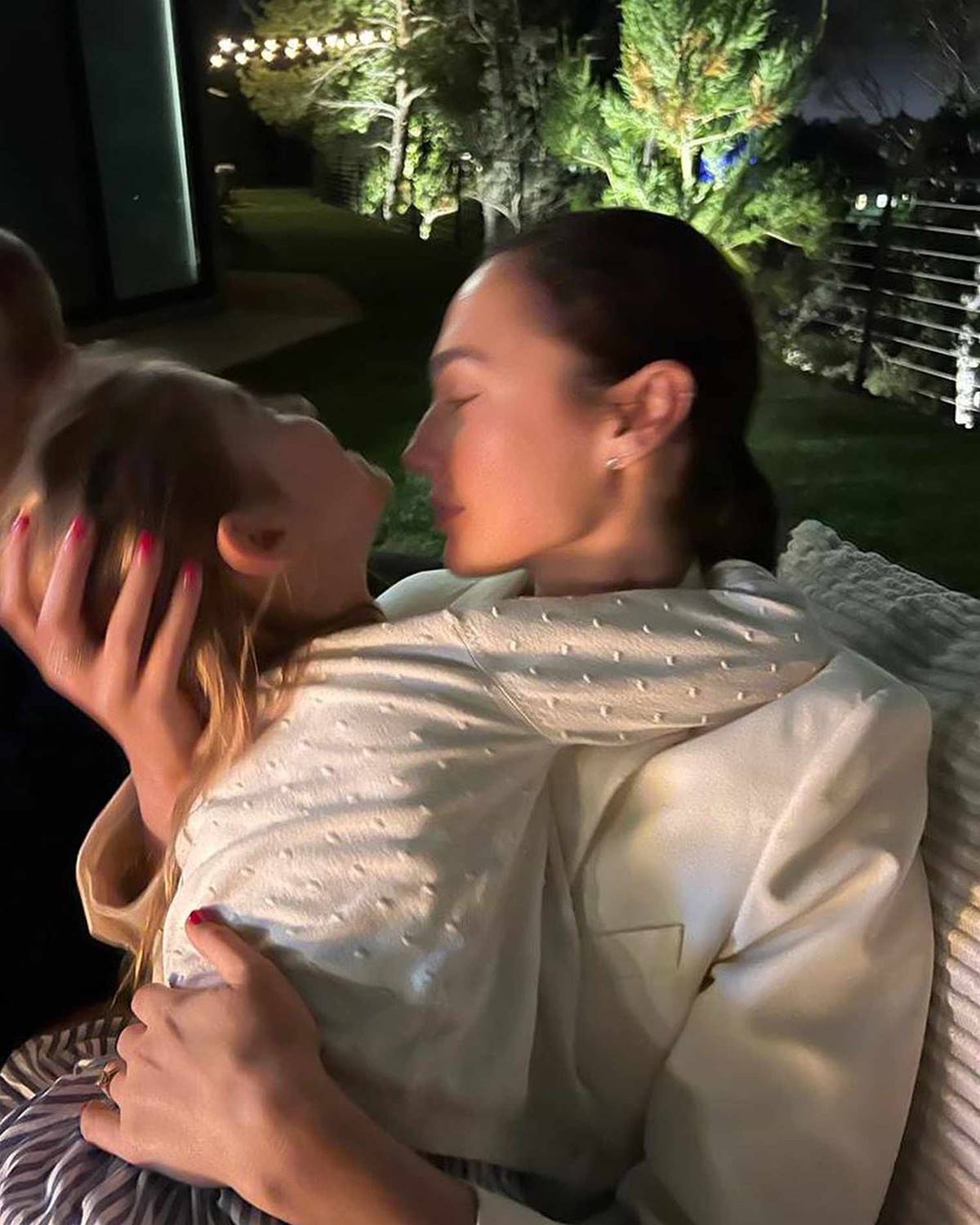 Gadot became a mother of two when her second daughter, Maya, was born on March 20, 2017.
"And then we were four... She is here, Maya. I feel so complete blessed and thankful for all the Wonders in my life #family #newborn #grateful," Gadot captioned an image of the foursome leaving the hospital on Instagram.
Gadot famously filmed Justice League and reshoots for Wonder Woman while pregnant with Maya — even using a green screen around her bump to camouflage the pregnancy.
"We cut open the costume and had this green screen on my stomach. It was funny as hell – Wonder Woman with a bump," Gadot told Rolling Stone in 2017.
She elaborated more about filming while pregnant: "The default should be that women get the job done, but there's a long way to go and a lot of reprogramming that needs to be done to both genders."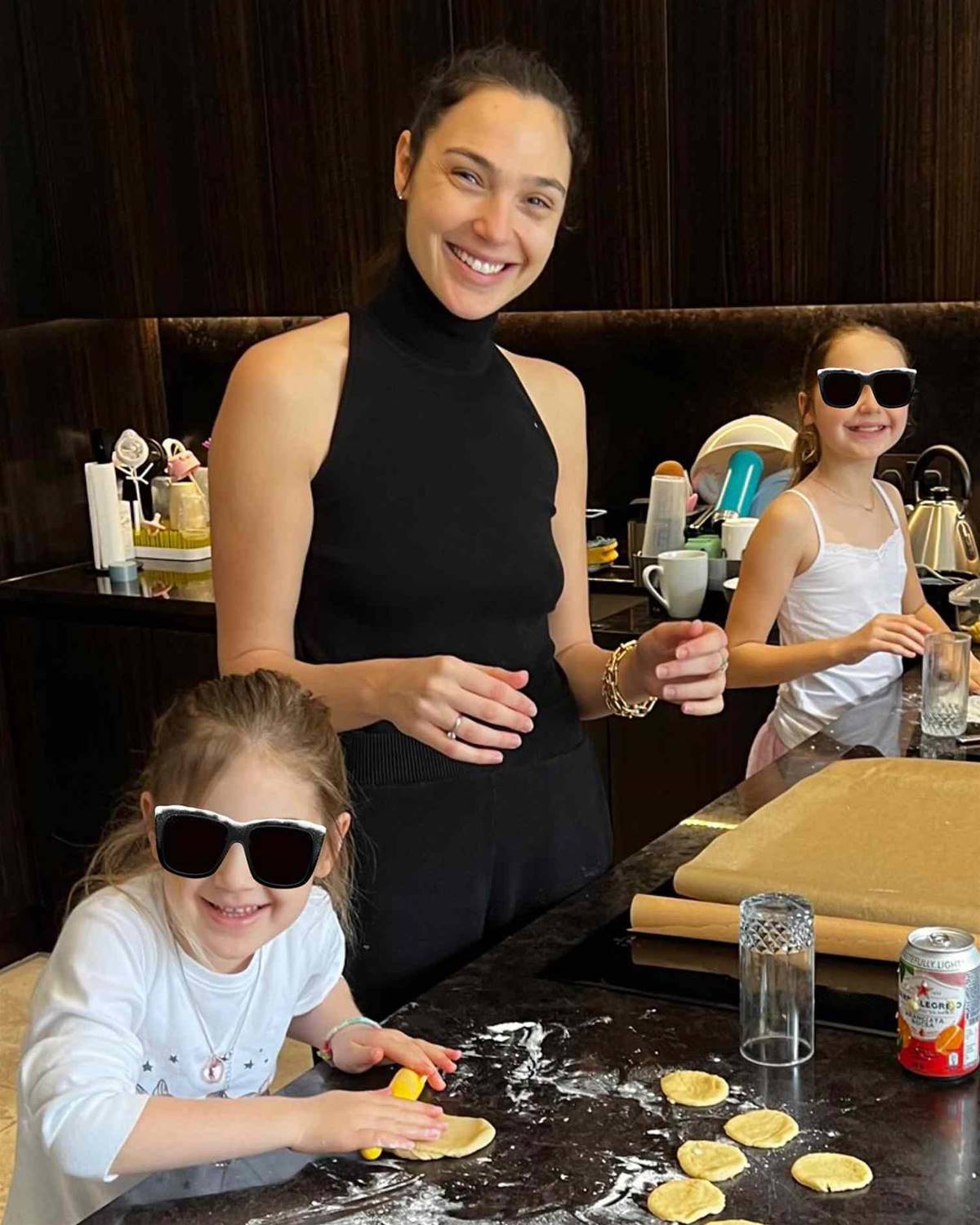 Since Maya has already made appearances in both Wonder Woman (via Gadot's baby bump) and Wonder Woman 1984 (alongside big sis Alma), Gadot has hinted at plans to keep the tradition going in Wonder Woman 3.
"Well, we might," she told Entertainment Tonight about a potential third cameo. "They can get used to it. It's a nice souvenir in each movie, they're going to be older and older."
Daniella Varsano, 2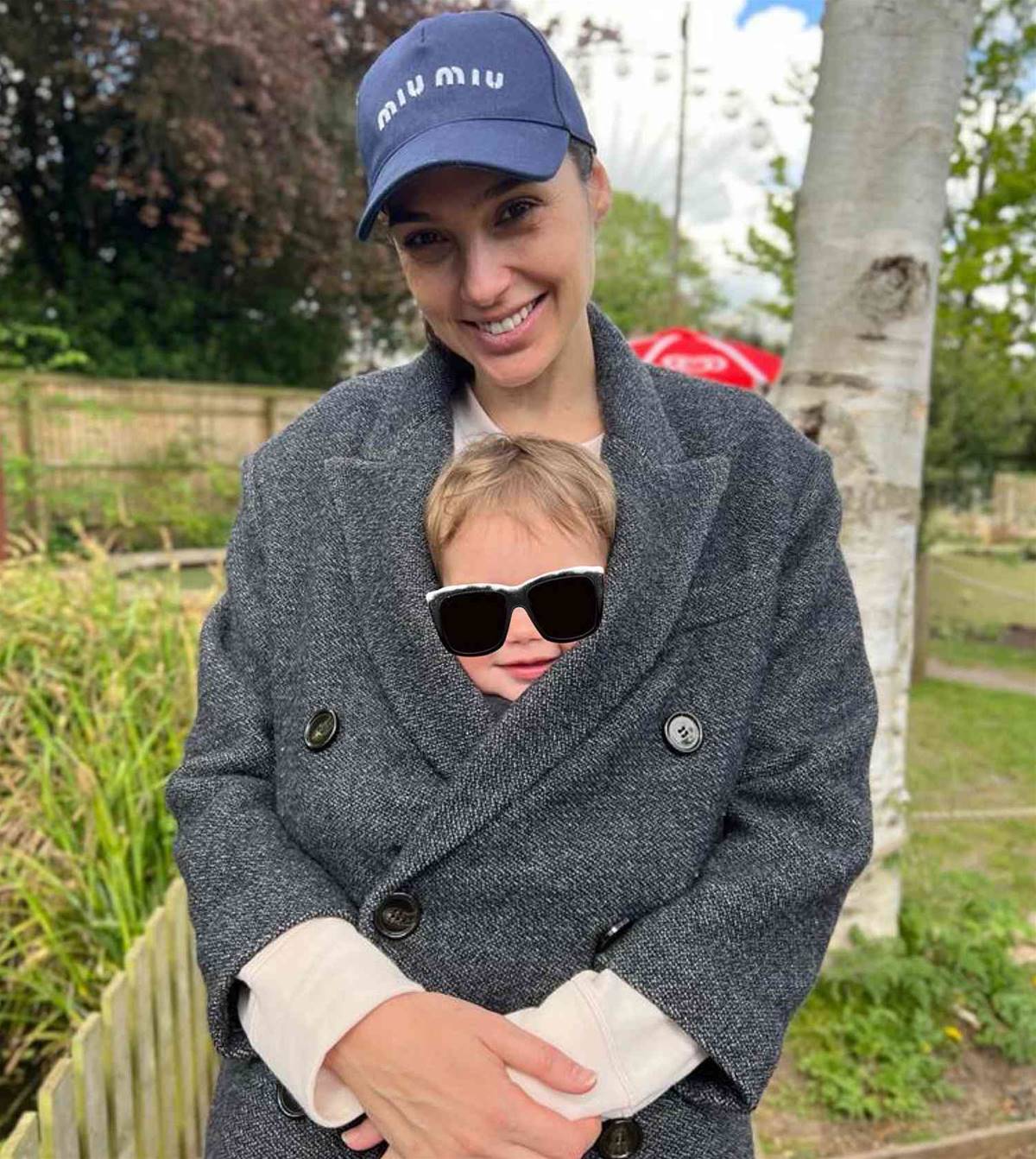 Gadot revealed in March 2021 that she and Varsano were expecting baby number three — and later shared it was another daughter joining their crew. "We're sticking to what we know," Gadot joked in an April 2021 appearance on Live with Kelly and Ryan.
And on June 29, 2021, Gadot announced the arrival of their third girl, Daniella, with a rare family selfie on Instagram.
"My sweet family 🖐🏼 I couldn't be more grateful and happy (and tired 🤪) we are all so excited to welcome Daniella into our family. I'm sending all of you love and health. GG ♥️🖐🏼🖐🏼🖐🏼🖐🏼🖐🏼," Gadot captioned the photo.
One of Gadot's biggest parenting priorities with baby Daniella is making sure "she loves and enjoys sleep" — and she's got plenty of moves up her sleeve to make that happen. Gadot showcased her "signature 'please go to sleep' dance" in a video of her and three-month-old Daniella on her Instagram in September 2021.
"I feel like this is the hardest part of parenthood: the lack of sleep and the being tired all the time," Gadot shared on Live with Kelly and Ryan. "That was the hardest thing for me."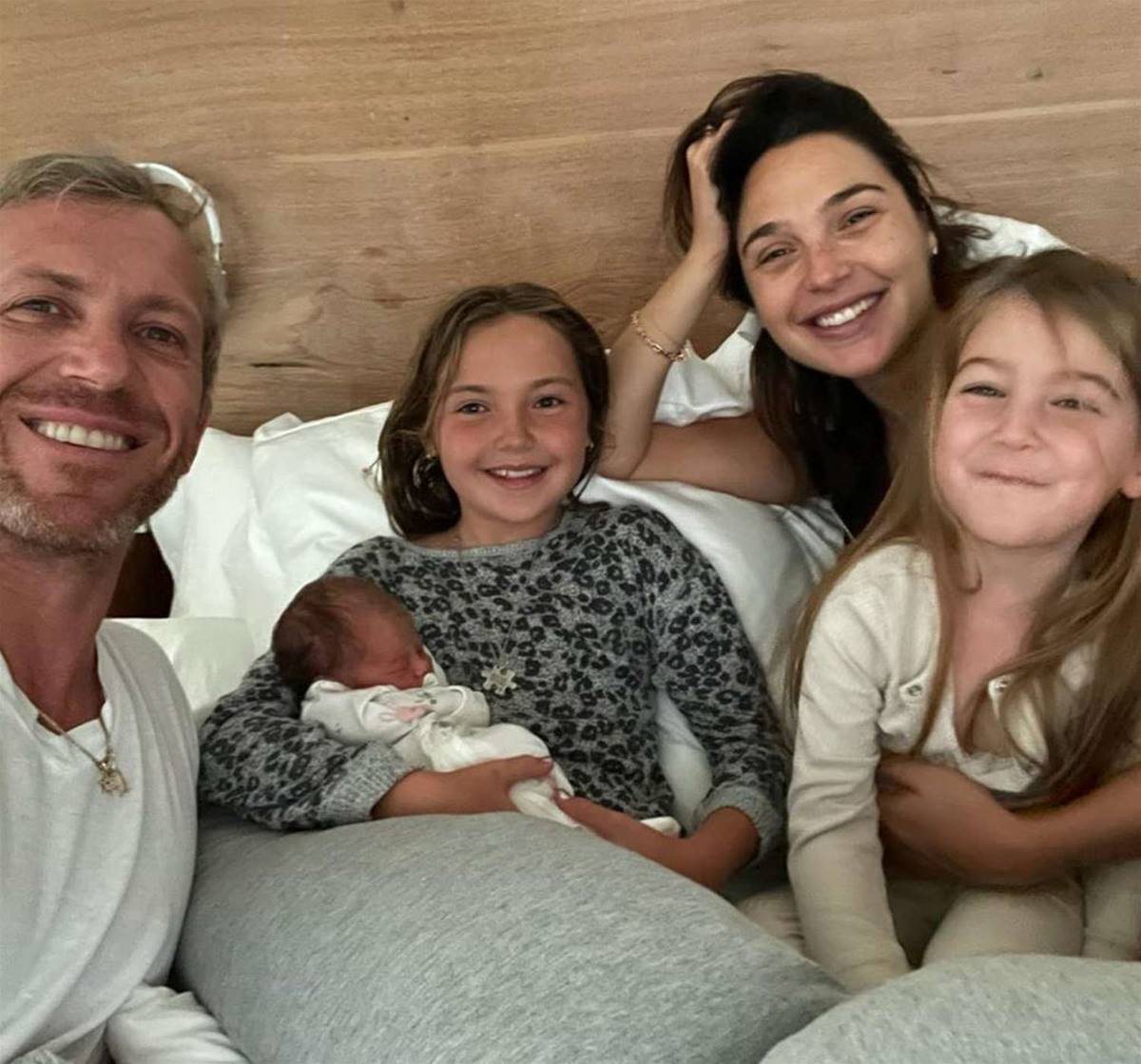 In August 2023, Gadot again spoke about being a working mother with three kids during an interview with Flaunt magazine.
"Having three children is messy and chaotic in the best way possible," she said, adding, "If you're at work, you want to be home. Then, when you're at home with the kids, you worry you're not working enough. It can be a vicious cycle — but you have to mute those feelings."
The actress explained that accepting she can't be a perfectionist has helped her find balance.
"I told myself that I can only do my best and that I'm being the best mother I can be," she said.