LGBTQ+ Actress Claimed On TikTok Candace Cameron Bure Got Her Kicked Off Fuller House. She Responded.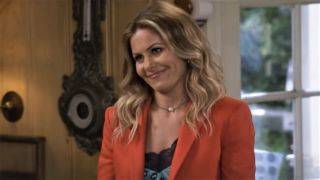 Over the past year, has been called out a few times by other celebrities, first for allegedly following the premiere and then for and featuring LGBTQ+ characters in Great American Family's Christmas movies. Now actress Miss Benny has spoken out about her time on Bure's Netflix spinoff, accusing the D.J. Tanner portrayer of trying to get her kicked off the show, and Bure responded.
Miss Benny appeared on two episodes of 's fourth season as Casey, who was gay and attended prom platonically with Kimmy Gibler's daughter Ramona. The actor took to TikTok with some accusations about what allegedly happened behind the scenes. Miss Benny said: 
One of the Tanner sisters is very publicly not for the girls, if that makes sense. I remember I got sat down by the writers and the studio to basically warn me how this person allegedly was trying to get the character removed and not have a queer character on the show. I was also sort of warned and prepared that this person's fanbase might be encouraged to target me specifically.
Miss Benny didn't mention by name, but the GAF actress was hashtagged, and given her response to , she seems to have felt the comments were aimed at her. Bure denied the accusations that she attempted to get rid of the Casey character or any other queer character, saying: 
I never asked Miss Benny's character to be removed from Fuller House and did not ask the writers, producers or studio executives to not have queer characters on the show. Fuller House has always welcomed a wide range of characters. I thought Miss Benny did a great job as 'Casey' on the show. We didn't share any scenes together, so we didn't get a chance to talk much while filming on set. I wish Miss Benny only the best.
You can see Miss Benny's full TikTok video below: 
@ihatemissbenny♬ original sound - Miss Benny
This accusations from Miss Benny come a year after JoJo Siwa's TikTok post that called the alum the "rudest" celebrity she's met in person, after Candace Cameron Bure allegedly snubbed her following the premiere of . The two went back and forth on social media and apparently before it died down.
However, the made headlines again late last year, when she told the Wall Street Journal that she thought "Great American Family will keep traditional marriage at the core," when asked about the network's competitor featuring LGBTQ+ characters in its Christmas programming.
Several celebrities were outraged Candace Cameron Bure's comments, with Hilarie Burton and Even Bure's sister and others who were speaking out about LGBTQ+ discrimination, which allegedly led to .
at the time, saying she loves everyone "of any race, creed, sexuality, or political party." The actress also explained that she had said "all ethnicities and identities have and will continue to contribute to the network," in her interview with WSJ, however that was left out of the story.
Although Miss Benny's time on was short-lived, the actress admits "everything happens for a reason," and "the show ultimately led to me being on on Netflix." You can check out either one of those series with a , and be sure to see what premieres are coming soon with our .