DYK Mia Khalifa slammed 'Wonder Woman' Gal Gadot over Israel-Hamas film screening
Former adult film star Mia Khalifa last week slammed Israeli actress Gal Gadot for her support of Israel amid the ongoing conflict with Hamas. Khalifa, who is of Lebanese descent, called Gadot a "Genocide Barbie" in response to a report that the "Wonder Woman" star is helping to organise a US screening of a film showing the October 7 surprise attack on southern Israel by Hamas militants.
The film, which was provided by an Israel Defense Forces (IDF) spokesperson, is a 47-minute video that documents the events of the attack, which killed 13 Israelis and wounded over 100 others. The film also shows the IDF's response, which targeted Hamas sites in Gaza and killed over 200 militants.
According to i24NEWS, an Israeli-based international news television channel, Gadot and her husband, Yaron Varsano, helped make the screening possible, along with Oscar-winning director Guy Nattiv, who is also from Israel. The screening is planned for a group of select celebrities and public figures on an undisclosed date.
However, the news of the screening sparked outrage among some pro-Palestinian activists, who accused Gadot of promoting propaganda and whitewashing the atrocities committed by Israel against the Palestinian people. One of them was Khalifa, who shared a screenshot of a Paper magazine headline from more than two years ago, which read: "Mia Khalifa dubs Gal Gadot 'Genocide Barbie' after Israel-Palestine statement."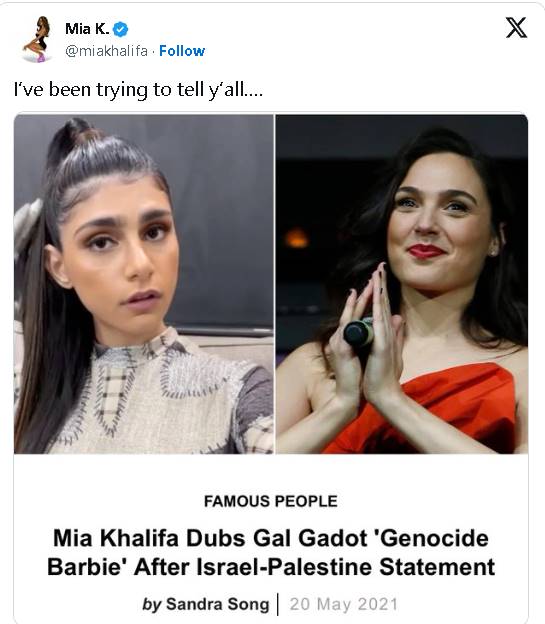 The headline referred to a previous Instagram post by Gadot, in which she expressed her sadness and concern over the Israeli-Palestinian conflict and said that both sides deserved to live in peace and safety. Khalifa, who has been vocal about her support for Palestine, mocked Gadot's post and called her a "fake feminist" and a "war criminal."
This is not the first time that Khalifa and Gadot have clashed over the issue of Israel and Palestine. In 2017, Khalifa tweeted a photoshopped image of herself punching Gadot in the face, with the caption: "I love the Middle East and I love Jews, but this is unacceptable. You cannot be this blind to the suffering of the Palestinian people."
Gadot, who served in the IDF before becoming an actress, has not responded to Khalifa's latest attack. She has previously said that she hopes for a peaceful resolution to the conflict and that she prays for the victims and their families.