Taylor Sheridan Revealed Kelly Reilly's Character is The Reason Why HBO Didn't Want Yellowstone!!
Before Yellowstone landed at Paramount, Taylor Sheridan pitched the modern Western series to a handful of other networks, including HBO.
In his cover story with The Hollywood Reporter, the 53-year-old filmmaker opened up about HBO's critiques of the series as he attempted to get the show greenlit and just why the network hated Beth Dutton.
According to Taylor, HBO went back and forth with him on giving Yellowstone a series order for a multitude of reasons.
The first issue was Kevin Costner playing John Dutton, as they wanted Robert Redford.
"They said, 'If you can get us Robert Redford, we'll greenlight the pilot,'" he recalled. "I drive to Sundance and spend the day with [Redford] and he agrees to play John Dutton. I call the senior vice president in charge of production and say, 'I got him!' 'You got who?' 'Robert Redford.' 'What?!' 'You said if I got Robert Redford, you'd greenlight the show.' And he says — and you can't make this shit up — 'We meant a Robert Redford type.'"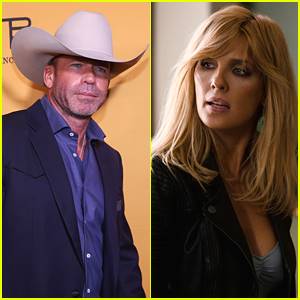 Beyond that, Taylor also said that HBO was not a fan of Beth Dutton, who is played by Kelly Reilly, and said that women would hate her too.
"'We think she's too abrasive. We want to tone her down. Women won't like her,'" he said that they told him about the character.
Like many women viewers, Taylor knew they were wrong, "because Beth says the quiet part out loud every time. When someone's rude to you in a restaurant, or cuts you off in the parking lot, Beth says the thing you wish you'd said."
After HBO completely passed on the show, Taylor got the rights back to the show and took it elsewhere, including TNT and TBS, before Paramount picked it up.