Suzanne Somers Tributes Pour in After Actress's Death at 76: 'The Most Glamorous Person I'd Ever Met'
' friends and fans are paying tribute following the news that the actress died on Sunday morning at the age of 76.

Her longtime publicist, R. Couri Hay, confirmed her death to PEOPLE. "Suzanne Somers passed away peacefully at home in the early morning hours of October 15th. She survived an aggressive form of breast cancer for over 23 years," Hay wrote in a statement shared on behalf of the actress' family.
Somers spent her final moments at home, surrounded by her husband, Alan Hamel, son Bruce Somers Jr. and other members of her immediate family.
Tributes soon poured in online for the actress, best known for her iconic roles in and
Somers's costar Stacy Keanan, who played Dana Foster on the family comedy, which ran for seven seasons, described Somers as a "bright, buoyant spirit, very kind, funny, and generous of heart."
"She was universally adored on the set of Step by Step, and when anyone asked what it was like to work with her, I found myself saying often that to know her was to love her," she told PEOPLE in a statement. "Along with her many creative gifts, Suzanne was also a brilliant business person. As her "TV daughter," she was so warm and nurturing towards me. I thought she was just flawless. I will miss her, but was just lucky to have known her."
Christine Lakin, who played Alicia "Al" Lambert, described the actress on as "the most glamorous person" she had ever met, with a "warmth and humor" that made Somers "real and down to earth."
"She was an icon yes, but she was also an inspiration in the early fight for equal pay in the entertainment industry," Lakin continued, adding that, "She was a 2nd mom of sorts to me in for formative years of my childhood. She had the best relationship with Patrick Duffy and the two of the them set the tone for what was an idyllic set experience."
"She was goofy and self deprecating which made her beauty disarming," Lakin added. "She had an excitement for life that was and will always be inspiring. I feel so lucky to have crossed paths with this wonderful woman. It's hard to believe she's gone from this lifetime. Rest in peace ."
Somers' leading man exclusively sent a statement to PEOPLE: "As with everyone who knew her, I was stunned yesterday by the news that had passed. For that brief moment it was unbelievable. But indeed she has passed. She beautifully passed through my life on this leg of her endless journey. My task now is to remain on the roadside as she continues on."
Duffy, 74, outlined some of the things he'll miss most when remembering Somers, including "the phone calls, the emails, the visits, and the meals and laughter."
He continued, "But the dialogue of deep and thoughtful, and silly and frivolous continues. My conversations with her now will be held solely through my daily Buddhist practice."
Duffy added, "I am not alone in wishing I had one more face-to-face with her and [her husband] , but had we had that meeting last Friday I would still be yearning for just one more today. It is the painful beauty of our present human reality. What strength and support I can muster I send to Alan and [her son]  and her family and to her I say; When the stone of your life dropped in this pond you made quite a ripple my friend. Thank you."
Somers' longtime friend and costar also issued an exclusive statement to PEOPLE: " They are a very close family — deeply connected and caring one to the other. I can only imagine how difficult this time is for all of them."
DeWitt, 74, also reflected on Somers' death, writing, "I'm sure Suzanne was greeted by Angels into the loving wisdom waiting for all of us on the other side, and I hope that will assist her family's hearts in healing as they travel through this difficult time."
and his wife Ace Harper also paid tribute to Somers in a touching post to Facebook, where they reminisced about the wonderful time they spent with her and Hamel in their Palm Springs home.

"Our dear friend Suzanne Somers has passed on but there is no way she will leave our hearts," the drummer, 62, began. "We met Suzanne on moving to Palm Springs through a mutual friend and we instantly were drawn to her and her wonderful husband Alan Hamel."
He continued, writing about the "dinner parties and events" that the couple always included them in and recalled the times they sat in "Al's bar high above the desert basin in their house of over 40 years in the Mesa area of Palm Springs."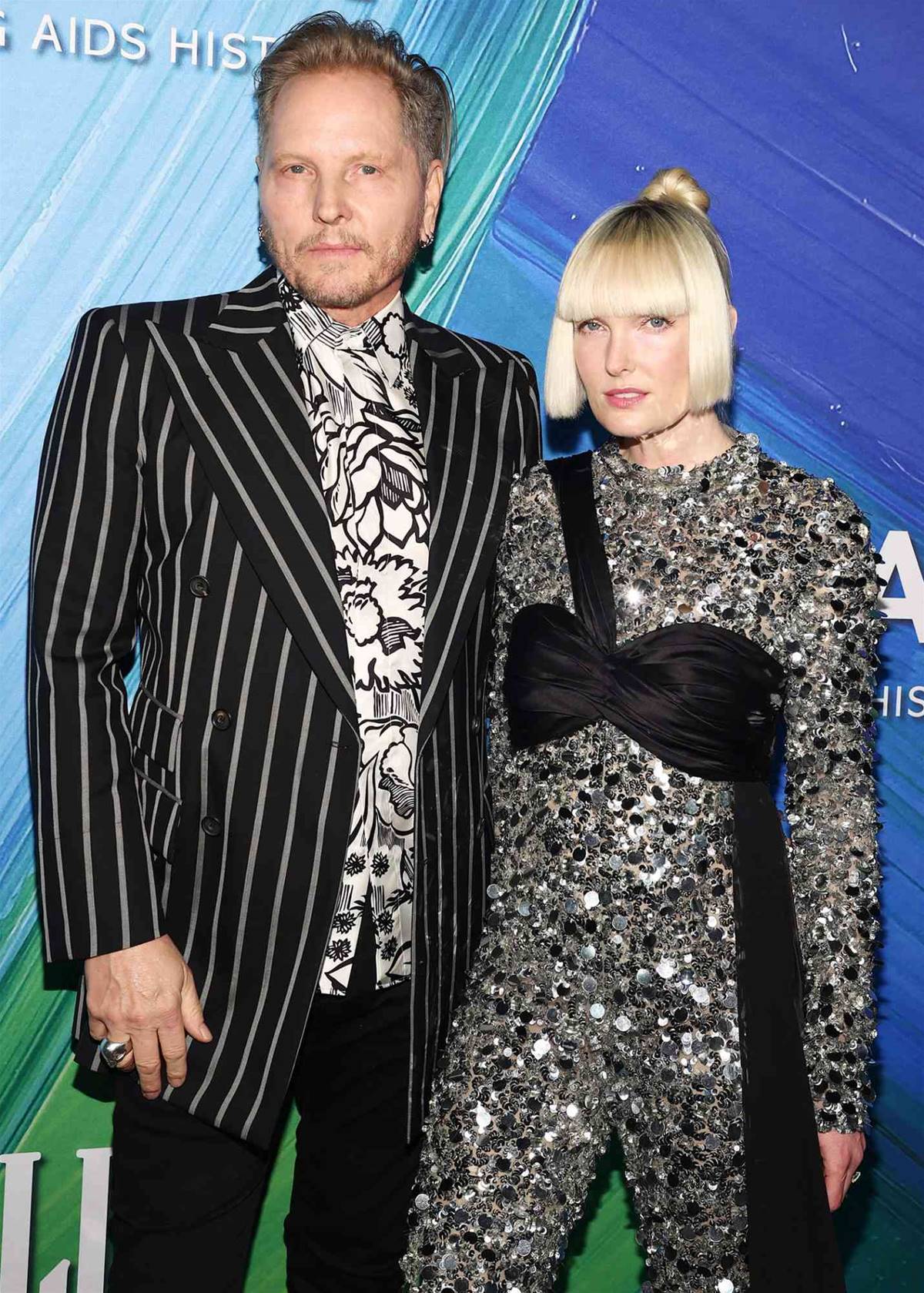 "Suzanne was ageless," Sorum added. "She was beautiful of course but the inner Suzanne was even more beautiful . Youthful ,Vibrant and inspiring and made Ace and I want to be like them. I liked to call Ace my mini Suzanne and Alan showed me what it was to be a supportive loving husband. The gift of meeting her was one of our greatest pleasures of living here in the desert."
"She took the time and always showed up when asked," he said, before sharing a story about a time when Somers and Hamel got lost on their way to their drum circle. "A woman driven by passion and love of family and friends. We feel so honored to be included in that circle of trust. We were talking about getting together again as the weather and season starts soon in the desert. Now that won't come to pass we are Heartbroken."
"Ace and I sat outside gazing at the desert sky with a new star above shining bright . She was a shining star here on planet earth as well that will be sorely missed. It won't be the same here without her. Taco nights at the Sorum Casa she was always here. The gift of Suzanne Somers is what we learned from her. Live & Love," Sorum concluded. "Thank you Suzanne we love you forever & ever to Eternity & Beyond. Condolences to our dear friend Alan and all of Suzanne's Family."
Adam Carolla said he was "devastated" to hear about Somers' death, calling her "a true icon and overall amazing human being" in a post on (now X). "You will be greatly missed, my friend," he added.
posted a photo of herself with Somers on Instagram.
"The heaviness of this past week's horrors just got worse with the loss of friend Suzanne Somers," she wrote, calling the actress a "sweet" and "talented woman." "Life is very hard, wherever we can bring joy, love, empathy and kindness as we move thru each day, do it! RIP dear Suzanne, you will long be remembered."

For Kathy Griffin, Somers was a "real pal and 'connector,'" the comedian reminisced on .
"She loved connecting people with one another," she said, calling Somers a "pioneer regarding equal pay for actresses in situations where the man got substantially more salary than the woman."
When Morgan Fairchild underwent a health crisis involving black mold that caused the actress to become sick and gain weight, her friend Somers was there for her, Fairchild tweeted on X.
"When we ran into each other, she would lean over & whisper, 'We're survivors!'" she continued.
Megyn Kelly, who met the actress once, that Somers "beamed kindness and beauty and love."
Sandra Lee lamented the loss of Somers . In addition to remembering Somers as "kind and generous, fun and funny," she shared that "just a few weeks ago [she] was giving me advice on doctors and longevity."
Never miss a story — sign up for to stay up-to-date on the best of what PEOPLE has to offer, from juicy celebrity news to compelling human interest stories.

"I will miss her so!" Lee continued. "God speed, my friend. Thank you for your grace, kindness and beautiful life example. Will love you always!"
The actress also was remembered and celebrated for her resilience amid her long breast cancer journey.
"How sad to hear that actress and uber businesswoman Suzanne Somers has died," ABC News correspondent Deborah Roberts "She was going to turn 77 tomorrow. She had fought breast cancer for more than 2 decades. Will never forget her 'Chrissy' in the hit show ."
Never miss a story — sign up for to stay up-to-date on the best of what PEOPLE has to offer, from juicy celebrity news to compelling human interest stories.
In addition to her roles as Chrissy Snow on (1977-1981) and Carol Foster Lambert on(1991-1998), Somers starred as Sheriff Hildy Granger in(1987-1989).
The actress was also known for her many books — she published more than 25 and was a best-selling author — and for her health and beauty business ventures, notably the  exercise equipment.
Somers is survived by her "blended family" — Hamel, Bruce, 57, her stepchildren Stephen and Leslie, and .